Extremely Comfortable - When using a full face mask, you can inhale and exhale through your nose or mouth. Natural breathing helps make you calmer and more relaxed in the water. No jaw or mouth pain and fatigue. Made of high-quality PC and medical-grade soft silicone. Softer silicone forms a better seal and is more tolerant of facial hair. Non-toxic and safe, prevent skin allergic or other skin problems.
Product Description
1) Product Name: RKD First Generation Full Face Snorkel Mask
2) Product Design Principles:
**One-piece All parts of the mask are fused together using injection molding techniques to create a unitary mask body
**Separate inhale and exhale airflow design for safety
**Quick fit clip system with adjustable elastic straps, or slilicone straps with a clip quick release.
**2019 Upgraded Fog Free system for clear 180° panoramic vision
**Free breathing A longer and wider mast enable you to dive beneath the surface and breathe easy and naturally through your nose or mouth
** 100% Dry top snorkel keeps water out
**Shatterproof & Scratch-resistant PC Glass
**Waterproof Ear Plugs
3) Product Pictures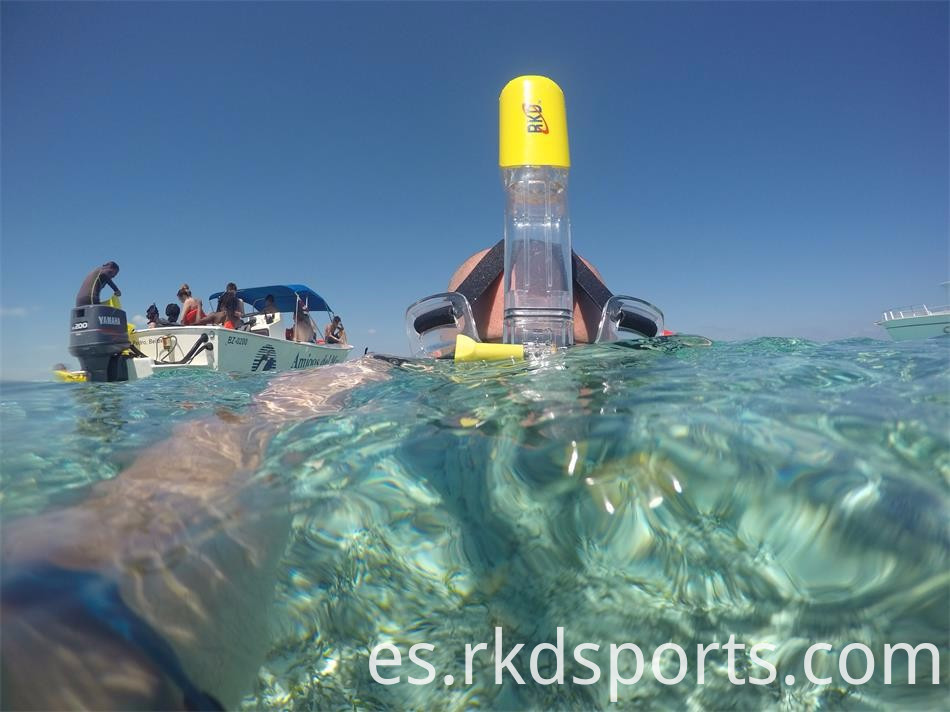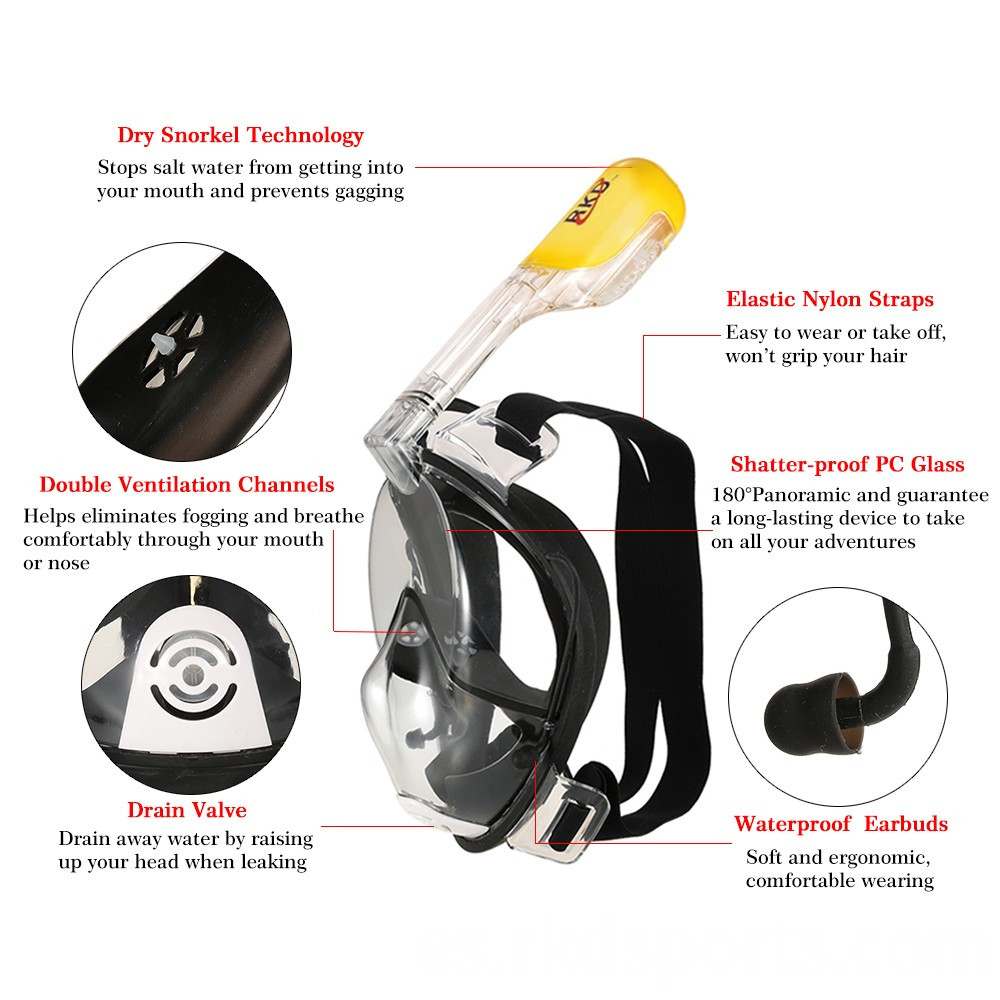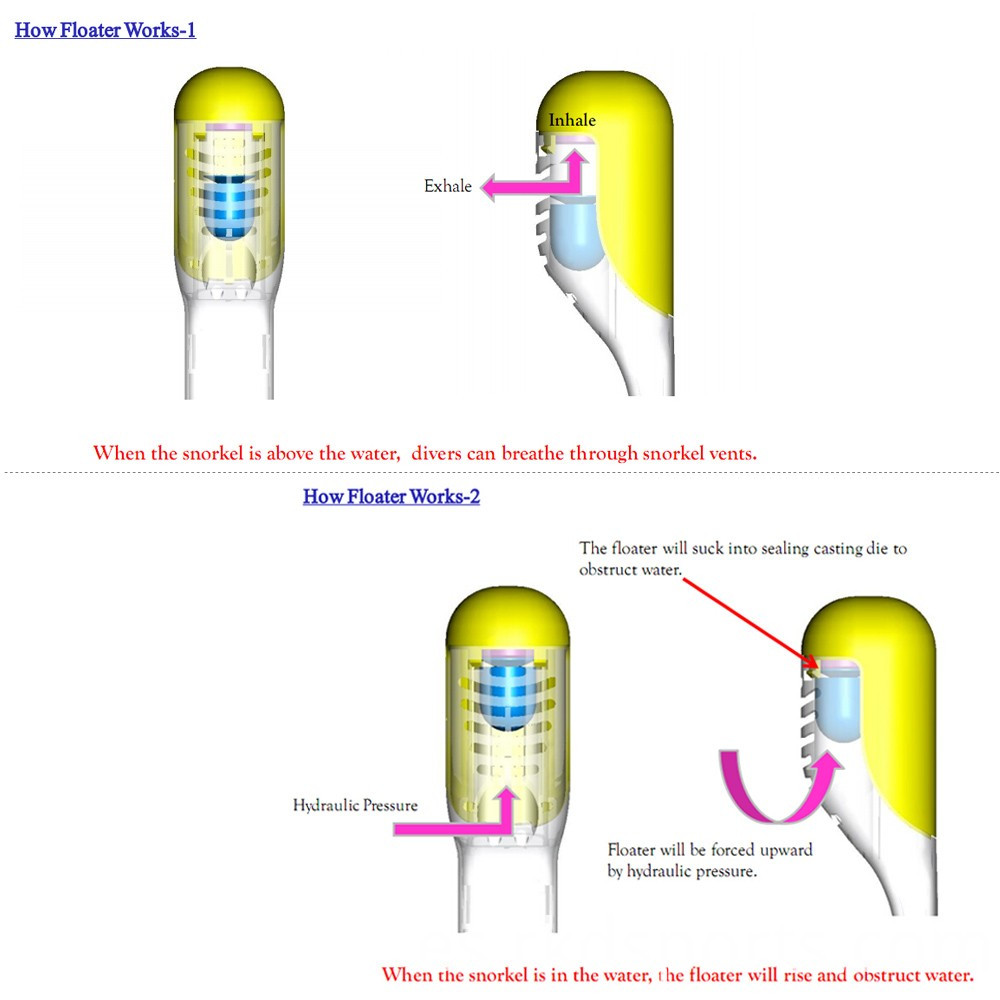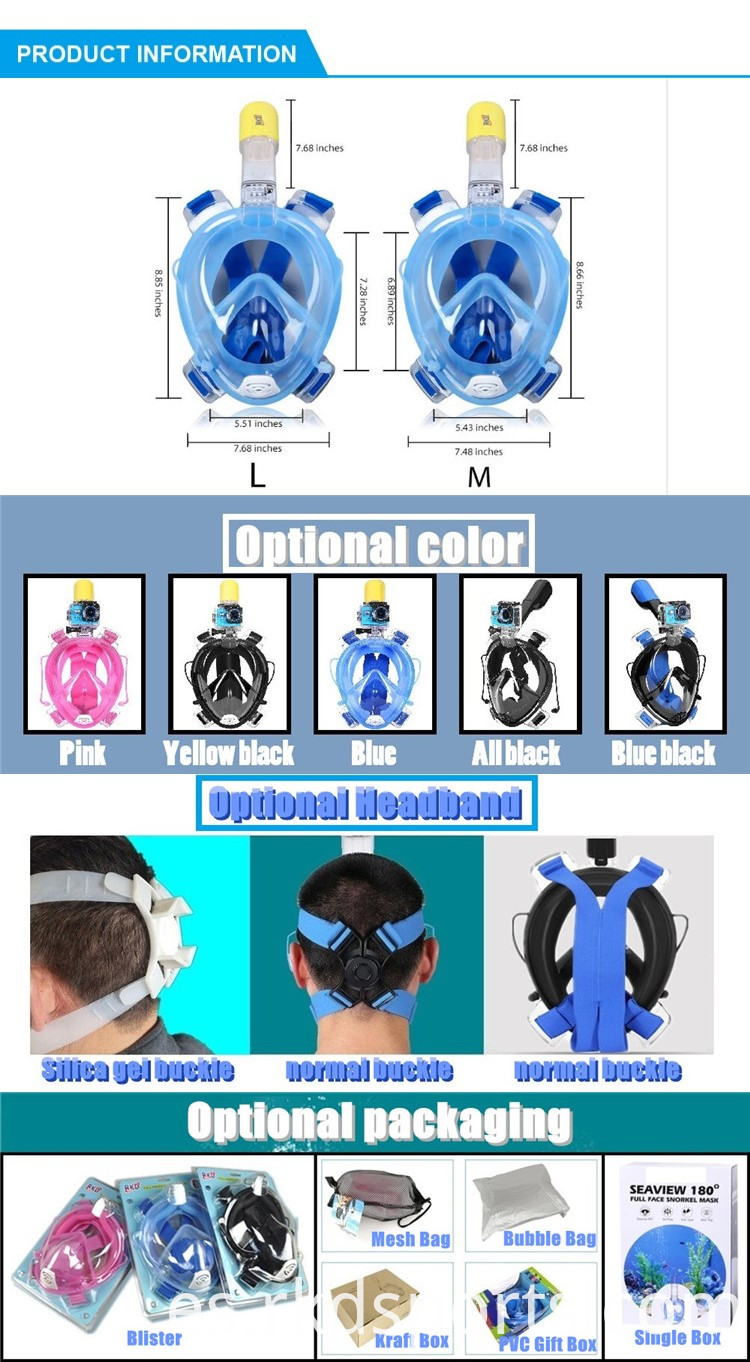 RKD one-piece full face snorkeling mask VS Others assembled full face snorkeling

One-piece durable silicone skirt VS Assembled heavy & hard plastic skirt

Upgraded technology no assembling at mouth part
VS Others more complicated process

RKD one-piece full face snorkeling mask VS Complicated & difficult
to assembled others
Company Information
17 years in silicone Molding & Manufacturing in Philips
Most commercial and professional divers require a high-tech, durable, efficient, safe, and comfortable diving system. RKD has developed a all-in-one full face mask to give divers the best solution to their needs.
Supplier of Mindray, the leading high-tech medical equipment manufacturer of China
Intellectual property owner (China, Europe & USA)of one-piece full face snorkeling mask and SCUBA mask
* RKD has become the first manufacturer to produce the air-seal mask globally.
*RKD has become the first manufacturer to produce a snorkel mask and SCUBA mask with equalization capability.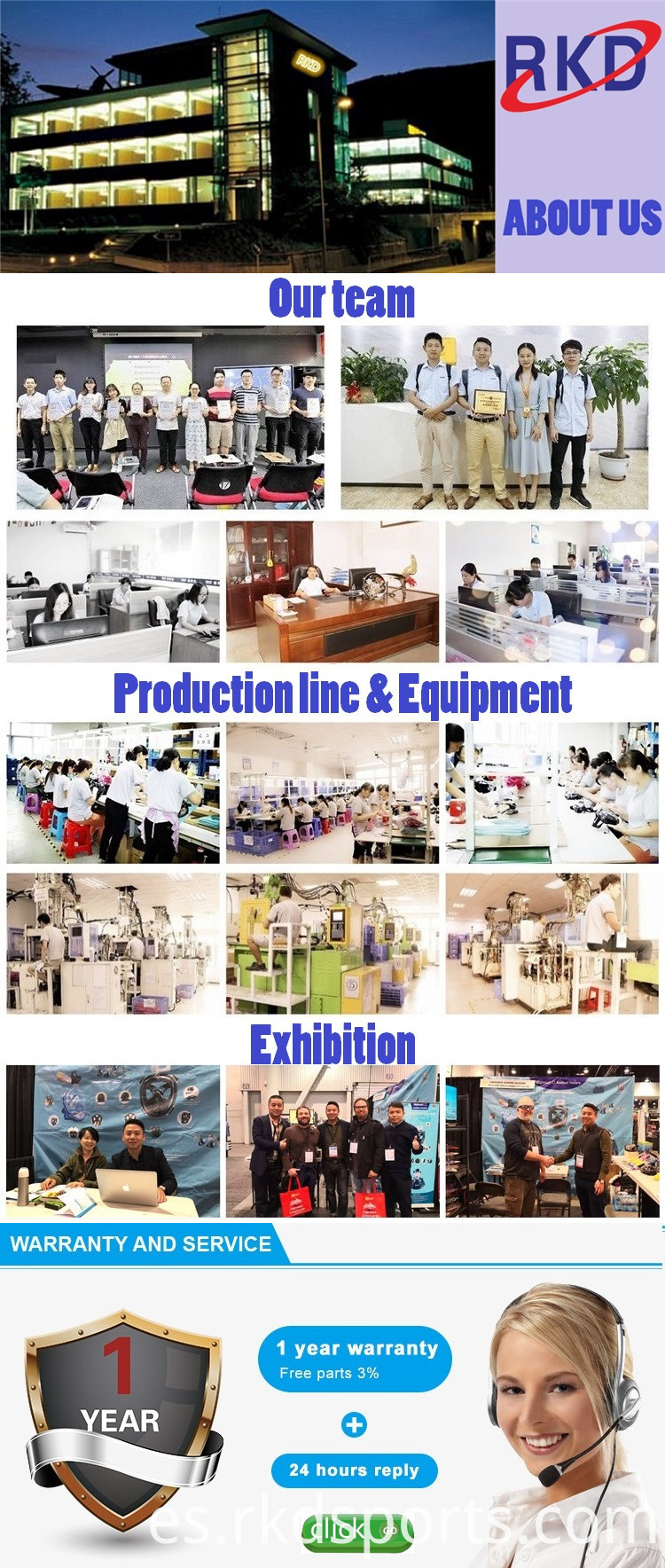 cooperative partner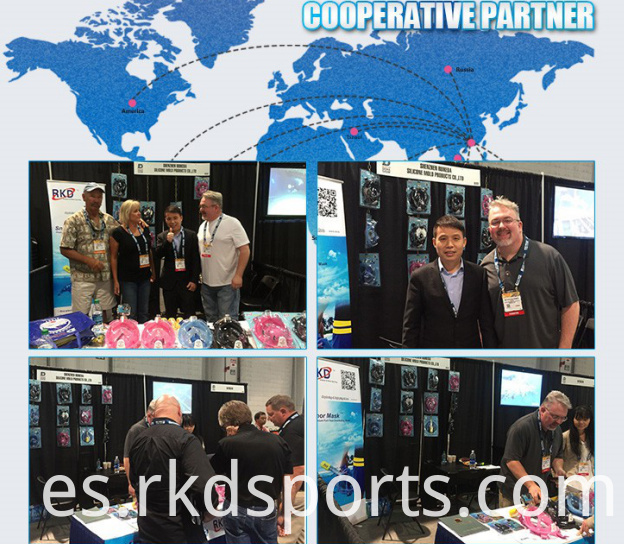 2016 LAS VEGAS DEMA SHOW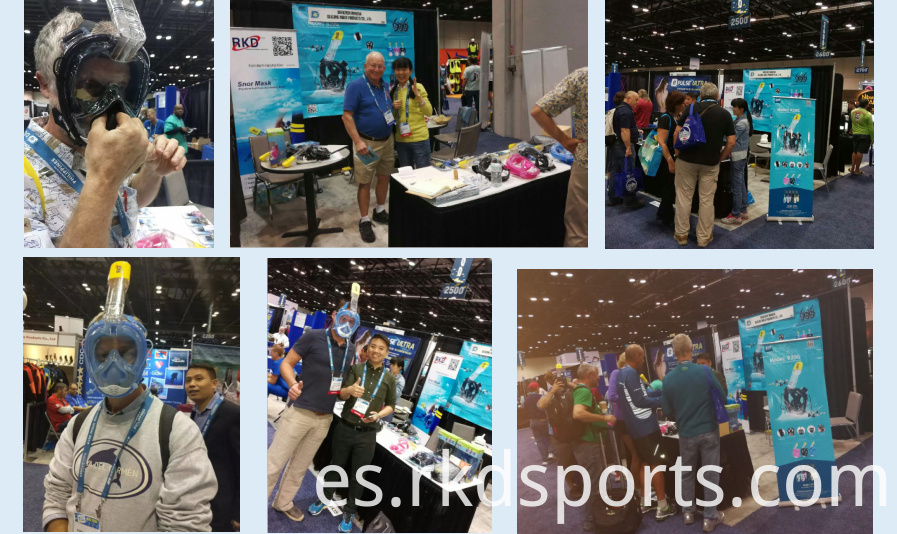 2017 ORLANDO DEMA SHOW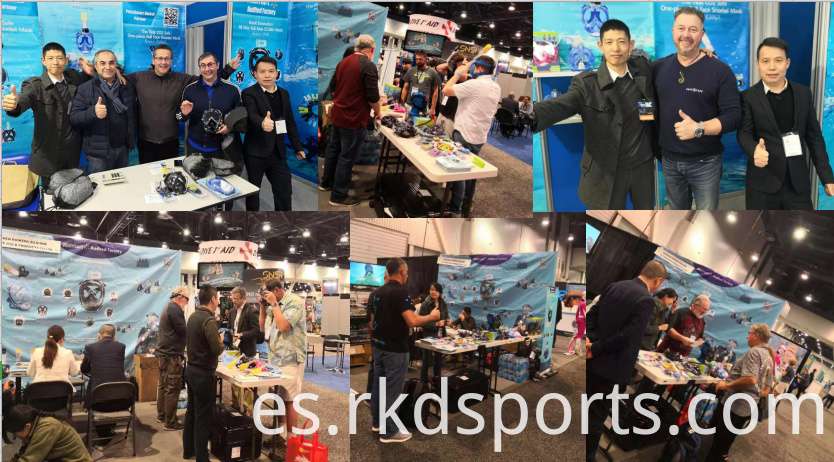 2018 LAS VEGAS DEMA & 2019 EUDI SHOW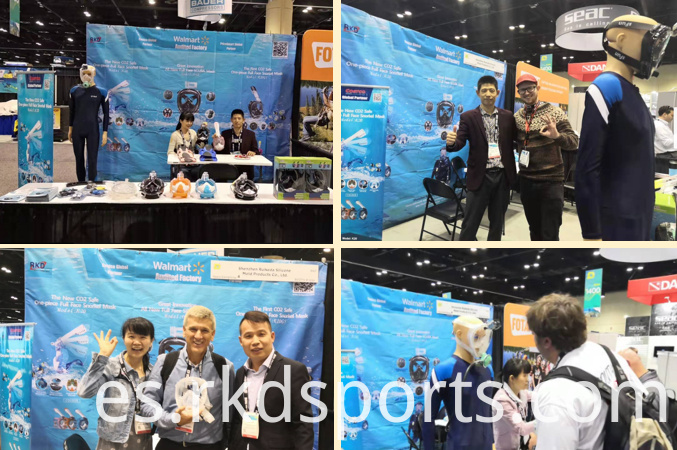 2019 ORLANDO DEMA SHOW
Contact us
Contact Name: Euphy Hodnett
Factory Name Shenzhen RKD Water & Outdoor products Co.,LTD
Factory address: 2/F, B Building, XinXinAn High-tech Zone, SongGang Street, Shenzhen, China
Sales office (US): APT 166, 2526 Meadow Park Circle, Bedford, Tx, 76021
Tel(CN): 0755-23573841 (US):(214)734-2338 Fax:0755-27238749
Web:http://rkdsports.en.alibaba.com
WeChat: euphylu2016
Whatsapp: +1 214 734 2338
Facebook: www.facebook.com/rkdsports